Detailing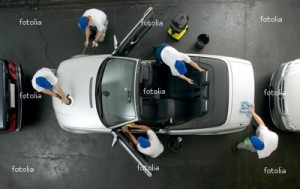 Want your car to really shine? There's no better reflection on your car than a showroom shine from the North Coast Car Care Detailing Center.
Your car's detailing experience begins with a trip through our state-of-the-art tunnel, where surface dirt and grime is removed. This is followed by a thorough vacuuming in our detail shop to get the interior spotless.
Then the real detailing magic begins! Your car is waxed and polished using our advanced high-speed buffers, so it sparkles like it did the day it arrived the dealer's showroom.
If you want, we'll also make your interior sparkle like new with special cleaning agents, leather or upholstery cleaner and a carpet shampoo. Then we'll top it all off with the air freshener of your choice, so your car smells as good as it looks!
Since detailing does involve specialized tools and labor, we recommend that you call to make an appointment first. Our toll-free detailing direct line is 888-GO-SHINE. Here are our detailing options:
Deluxe Supreme $189.95 – wash, wax, hand buff and polish, tire cleaner, air freshener, engine cleaning, trunk cleaning, and interior bath including carpet.
Deluxe $94.95 – wash, wax, hand buff and polish, tire cleaner and air freshener, interior bath including carpet
Express $54.95 – wash, wax, machine polish, and tire cleaner.
Interior Bath $99.95 – seat, carpet, dashboard, doors, complete interior cleaning.
Add $10 for hand washing.
Oversize vehicles slightly higher.